Japan Sleeve Corporation is equipped with advanced functions that support specifications for a variety of printing and packaging manufacturing. A network has been established between Tokyo and Shizuoka, and the factory supports direct plate output using data. This environment is linked with a rich variety of printing and processing equipment in order to shorten lead time. It also realizes fast response to modifications, etc. In the future, we will continue to enhance our facilities through digitalization.
Our company's work flow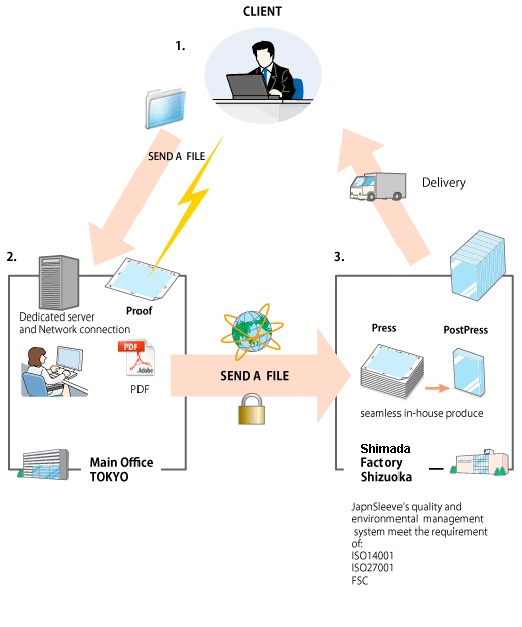 1. Receipt of draft→color proof

After receiving draft data from a customer, we produce a color proof. We offer various methods of support depending on the customer's needs. For example, we offer simple proofreading to save time and cost, as well as proofreading which uses actual paper and printing machines.
2. Finished proofreading

After color proofreading, the finished proofreading data is sent via internet from Tokyo headquarters to production center in Shizuoka.
This shortens the delivery time and reduces CO2 emitted during transportation.
We have constructed a secure transmission environment which has acquired ISO27001 certification for information security. This ensures that there is no leakage of information when transmitting data, even in extreme circumstance.
3. Production→delivery

At our production center, we have established an integrated production system from printing to post-press and finishing.

 ■Special effects for creating added value in packages■
Our company works unceasingly to developed new printing expressions which bring further added value to printed products. At the Shizuoka Factory, we have installed two of the advanced offset printing presses XL105 manufactured by Heidelberger Druckmaschinen AG (Germany). Our facilities support a wide range of printing, from normal printing to special printing methods.
◆Wide color rendering
This printing enables a broad color spectrum for RGB images which could not be fully replicated with conventional 4-color process printing.
◆UV clear coat
An environmentally-friendly surface coating (shiny coat) which can be recycled.

◆High brightness UV varnish
A surface coating which is even brighter than UV coat varnish.
◆UV polarized pearl varnish
A polarized pearl varnish in which the color tone continually changes depending on the angle from which it is viewed. An even more prominent color rendering effect is achieved by placing the coating on top of ink.
◆Aqueous polarized pearl varnish
A varnish which adds a slight matte tone to the UV polarized pearl coating.

◆Pseudo-embossed coat
The asperity of embossed coating is created through offset printing which uses varnish with two different characteristics: over-print varnish and UV clear coat. This achieves printing that creates an embossed effect.

◆Plastic sheet printing
UV printing which is optimal for printing of non-absorbent material such as PP or PET aluminum metalized paper.
◆Soft touch varnish
This method uses special surface processing to achieve a coating which is soft to the touch.
◆High-sensitivity offset UV ink
By increasing the sensitivity of conventional UV ink, this ink reduces the amount of UV irradiation from printing machines. Achieves significant reductions of approximately 66% for conventional printing machines and approximately 50% for room air condition (according to survey by our company). The ink also reduces CO2 emissions during the printing process by approximately 59%.